After a successful workshop session with AYLEE, we sat down with Shauna Kelly, ACEE's Youth Program Coordinator, to chat about the organization, her role, and what youth leaders are up to! The Alberta Youth Leaders for Environmental Education (AYLEE) is a youth program led by the Alberta Council for Environmental Education (ACEE). The program was started in 2016 and strives to create space for youth to collaborate on the subject of the environment and environmental education, and is open to students in grades 7-12 across Alberta. Based around bi-weekly (virtual) meetings, students have an opportunity to connect with each other over topics not necessarily covered in school. For eco-anxious learners and teachers, this time is invaluable, if only to be reassured that there are like-minded folks across the province! AYLEE helps provide students with the resources and space to take collaborative action to advance climate education in the province. Their yearly summit creates a plan for what the rest of the school year will look like: what their more immediate goals are, who their audience is, key folks they'd like to work with, what current curriculum gaps are, etc. The idea is to work within the educational system to create change. To help, AYLEE sometimes brings guest speakers and industry experts into their meetings—which is where we come in!
GreenLearning was fortunate enough to be invited as a guest speaker to talk about energy and, more recently, electric vehicles. We had a total blast during the workshop and hope we'll get to connect again soon! In the meantime, we'll share the great conversation we had with Shauna Kelly about how she first got involved with the organization, and what exciting things AYLEE has been doing throughout the school year. This interview has been edited for clarity.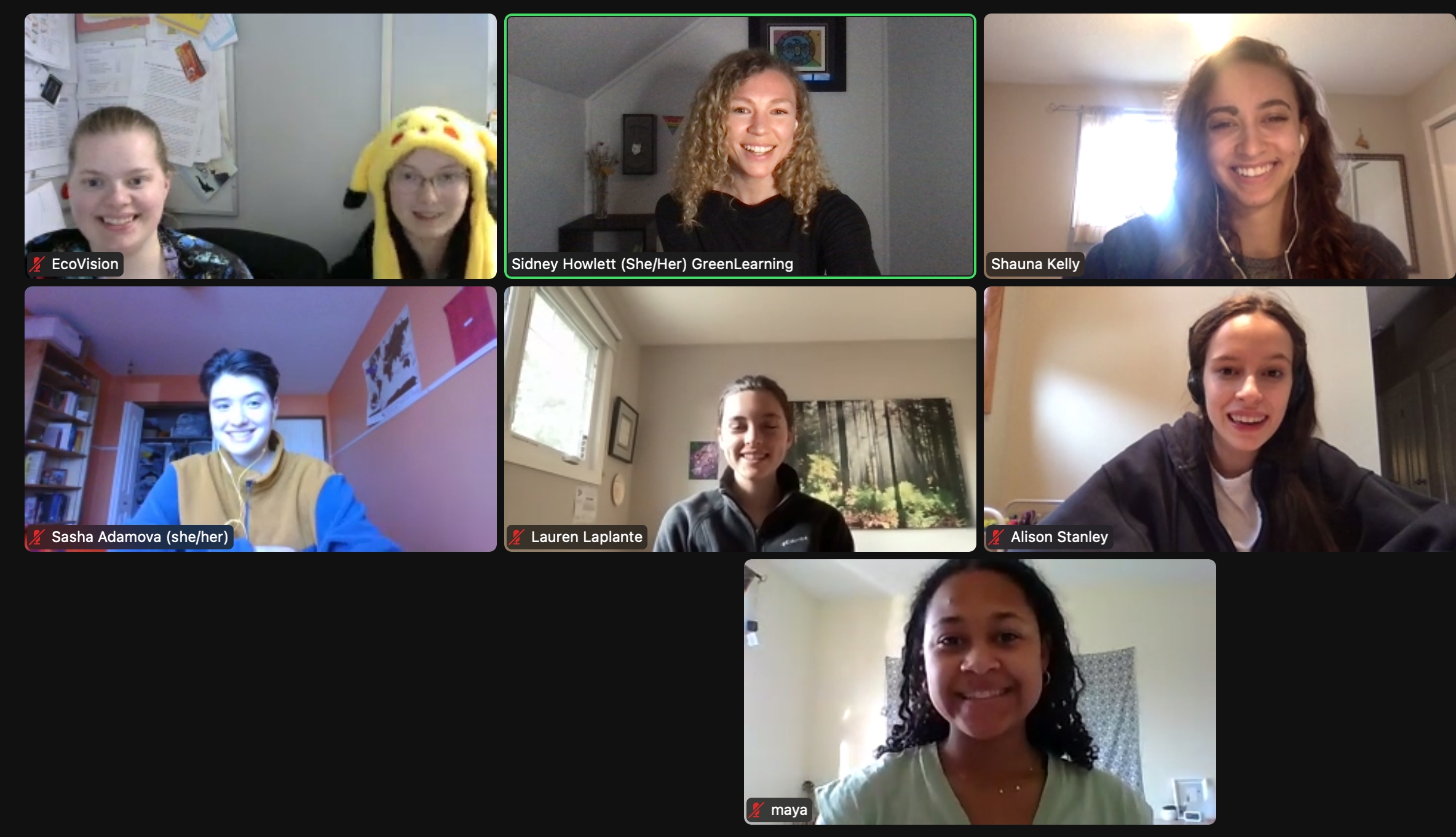 How did you get involved with AYLEE?
In high school, I was lucky enough to be part of a school that had an environmental course. By chance wandered into Adam Robb's class and totally fell in love with the environment and environmental education. Adam was connected with ACEE, so when AYLEE was first getting started, he asked students if anyone wanted to get involved—I expressed interest and was lucky enough to work with AYLEE all throughout high school. Because I was so involved, Adam emailed me an intern position for ACEE during my first year of university, and I was fortunate enough to be selected for the job, which eventually became the Youth Program Coordinator position I currently hold!
AYLEE's current most exciting projects?
We've got a lot of cool things on the go, but one of projects we're really excited about is a student-led initiative to empower students to take action for the environment within the education system. Originally started by one of our members, Avry, who wanted to put together and deliver presentations about green technology and climate change but didn't have the capacity to do the project on his own. It's since grown to around 15 students, all of whom collaboratively put together scripts and materials (activities, slides, etc.) for elementary, junior high and high schools. They've also been developing grade-specific presentations, and so have been speaking to family members, siblings and teachers to better create materials for different age groups. These presentations have been delivered within students' own institutions as well as to other schools!
Four AYLEE members are also working on a policy resolution template project. We've partnered with California-based Schools for Climate Action to develop a policy resolution template for Alberta schools, which includes background information on our expected climate impacts, existing sustainability initiatives in schools, etc. The goal of this project is to see more advocacy for climate education in Alberta —we've been really thinking about how we can start engaging youth in passing the resolutions because we know that policy change is essential to climate action.
What are some of the past projects you're most proud of?
Last summer, a few AYLEE members created a website, the AYLEE green leaders kit, which contains resources for youth to get involved in climate action. This kit is specifically action-oriented: it provides information on how youth can be leaders in climate action. In the summer of 2020, some students worked with artist Hannah Gelderman to create the Brighter Futures Video. Hannah created the process and helped piece everything together but the concept, story, narration, and a lot of the art was totally youth-created 2020 also saw a review of AYLEE's 2016 white paper; students reflected on what has been achieved and what still needs to be done, and put forward new recommendations for how Alberta's education leaders can advance environmental and climate education in the province. The AYLEE white paper is what guides student recommendations when speaking to education leaders, so the update was fantastic. It included transportation options to and from schools!

Thanks so much to Shauna for chatting with us, and to AYLEE students for being such a wonderful and captive audience! It was a total pleasure to talk all things energy. If you're interested in a free energy conservation or electric vehicle workshop, or interested in free energy resources, either email: [email protected] or check out our free programs below!
Energy Revealed
The Energy Revealed program explores ways to make energy visible in schools and in our homes. Whether learners are using installed energy metering technology, plug-in energy metering technology or no technology at all – Energy Revealed will help learners become energy efficiency experts. The program includes junior (grades 3 - 8) and senior (grades 9 - 12) streams for age-appropriate activities and resources, together with an Energy Revealed Challenge to take real world action for tackling climate change through energy efficiency!
Re-Energy
In the Re-Energy program, learners of all ages learn about renewable energy, the different sources of renewable energy and explore the co-benefits and trade-offs of using comparable renewable energy systems. In this engaging STEAM program, learners become renewable energy engineers by using detailed construction plans to build their own working models of electric vehicles, energy storage systems, solar ovens, solar cars, wind turbines, hydroelectric generators, and biogas generators. Learners can also make use of related links and backgrounders to explore each renewable energy technology in depth.
Topics: Interview, AYLEE, Environmental Education, Environmental Policy
Back to Blog