GreenLearning has been equipping educators with the tools to effectively teach environmental education for more than a decade. We are committed to engaging learners in environmental activities that allow them to explore the world around them, while developing skills to positively shape the future. Most educators are often surprised to learn that our content is free! All the learning materials on our website are accessible via a free account. Our workshops and events are also available online at no charge. And that's not all. GreenLearning's challenges provide a hands-on opportunity for students to take climate action with a chance to win prizes!

We are so excited to announce the 2022-23 Action Challenge Winners! As always, we had so many inspiring projects from this year's submissions from all over the country. It was another successful year for our challenges with over 30 schools across Canada registered to participate and submit a culminating final project, which was then judged by a panel of experts to select the first $1000, second $500 and third place $250 winners.
Here is a summary below of GreenLearning's challenge winners for the 2022-23 year!
Eco 360 challenges grades 3-12 learners will develop a feasible plan that incorporates a circular economic model eliminating plastic waste from our environment.

First Place: Mrs. Mathur - STEM Students
Somerset Academy, Grade 4/5, Markham, Ontario.
Students created invention plans and 3D print models of their solutions to reducing plastics in the environment. They then shared their inventions in presentations to their school.



Second place: Ms. Monty - Eco Art Club
New Central Public School, Grade 3-6, Oakville, Ontario.
Students worked to collect over 2000 bottle caps then voted on a mosaic design. Students created a mosaic for the garden, which can also hold water for insects!
Re-Energy turns youth into energy engineers by challenging them to design, build and test a working model of any renewable energy technology.

First place: Ms. Boulton & Miss Boucher - Science 30 Classes
St. Francis Xavier High School, Grades 11 and 12, Edmonton, Alberta.
Students built 24 renewable energy models and shared their learning with younger peers and participated in tasks associated with the models e.g. an electric car race.


Second place: Ms. Montgomery - The Dugout 6-2
New Central Public School, Grade 6, Oakville, Ontario.
Students retrofitted a stationary bike with the capacity to create electricity to reach their goal of powering a lightbulb with kinetic energy from pedalling.


Third place: Mrs. Mathur - Science Students
Somerset Academy, Grade 7/8, Markham, Ontario.
A small group of students worked both independently and as a team to create and test their working models of renewable energy.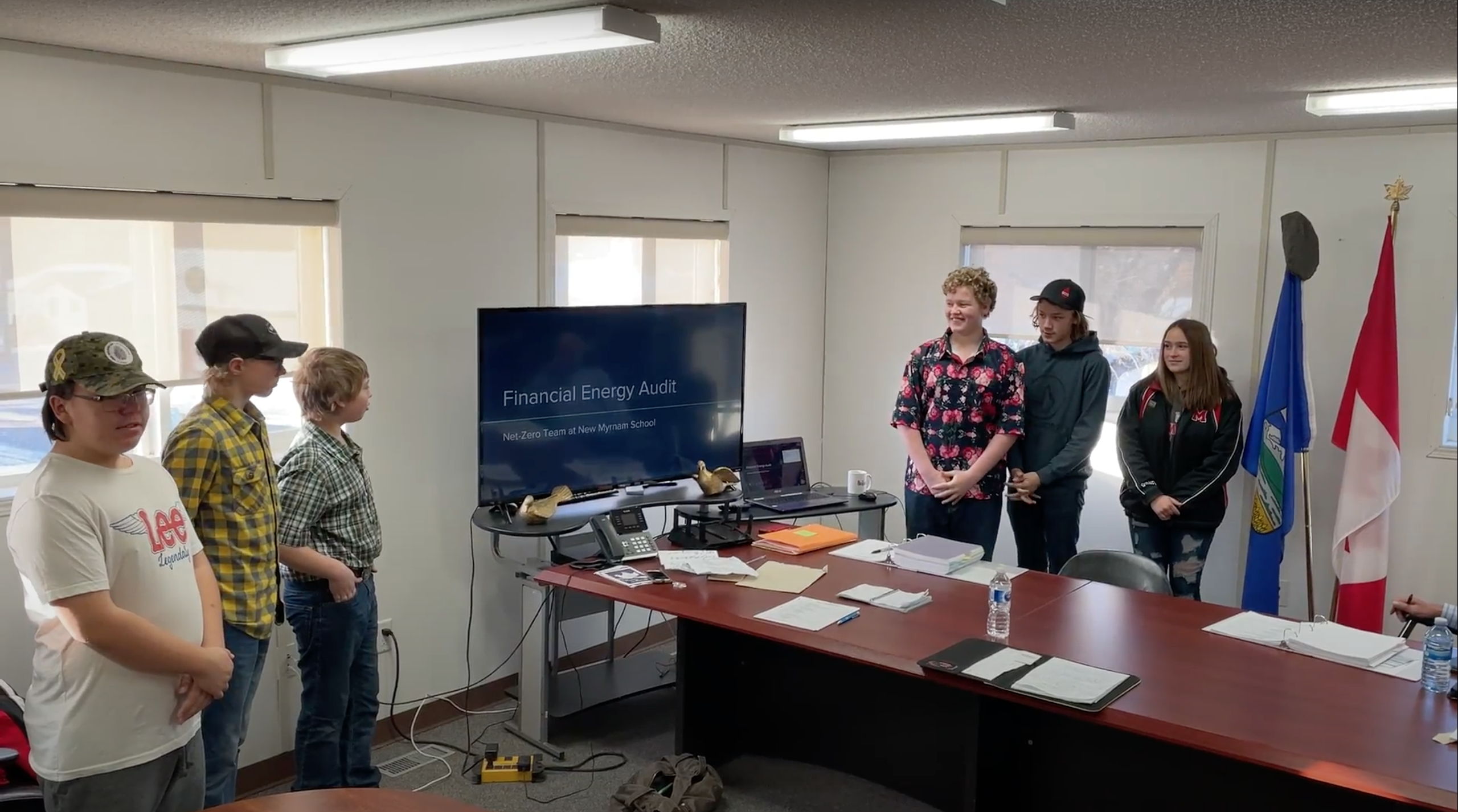 In this challenge, learners participate in a school Earth Hour event to raise awareness about energy efficiency at their schools.

First place: Mr. Wong - WCI Eco Club
Waterloo Collegiate Institute, Grades 7-12, Waterloo, Ontario.
Eco Club students hosted Eco Comp and challenged schools within their board to participate in an Earth Week alongside an Earth Hour.


Second place: Mr. and Mrs. Shortt - Ravens
Muskoka Highlands Academy, Grades 5-8, Huntsville, Ontario.
Students hosted a School Earth Hour by doing all outdoor activities so the lights were turned off in the school. They also contacted a local golf course and encouraged them to convert to LED lights.


Third place: Mr. Tymofichuk - Team Net Zero
New Myrnam School, Grades 7-9, New Myrnam, Alberta.
Students did an energy audit of a building facility that runs HVAC units almost 24/7 and they proposed a plan for adding timers, which could decrease energy usage by ⅓, thus saving 18,000 kWh per year!

We would like to thank all of our supporters that continually make it possible for us to empower youth to create innovative solutions through GreenLearning's challenges; Dow Canada, Trottier Family Foundation, Definity Insurance and Suncor Energy Foundation.
To read the project summaries from each of the participants mentioned above and view the student work along with images, please view the challenge submissions showcase.
Ready for your own climate action journey? Then stay connected to us! Sign up for an account and join the newsletter to know about GreenLearning's challenges and program updates.

Have a wonderful summer!

Back to Blog