Climate change is one of the most important issues of our time. From the 2013 Calgary floods to the 2019 High level fires, Alberta's ecosystems, economy, families, and communities are experiencing the devastating impacts of climate change, and the situation is only growing in scope and scale. Therefore, governments, manufacturers and consumers are on board to achieve major transformation in Canada's energy sector by 2035, and the electrification of transportation will lead to a reduction in greenhouse gas emissions, potentially helping to tackle climate change.
In the near future, Canada will have a need for skilled tradespeople and professionals who are familiar with electric vehicles (EVs). To meet this demand, we've launched the pilot phase of the EV conversion and charging station installation program called "Re-Energy: Electrifying the Future of Transportation" to prepare the students of today for the energy careers of tomorrow.
We're piloting this project in Alberta with the aim to expand nationally, engaging youth in leading the transition to a clean energy future through awareness and adoption of zero emission vehicles and related infrastructure. "Re-Energy: Electrifying the Future of Transportation" is a hands-on educational program focused on increasing awareness about the zero-emission vehicle, energy storage and charging industries amongst Canadian youth.
In February 2022, GreenLearning received a contribution from Natural Resources Canada's Zero-Emission Vehicle Awareness Initiative, in support of the Re-Energy: Electrifying the Future of Transportation project.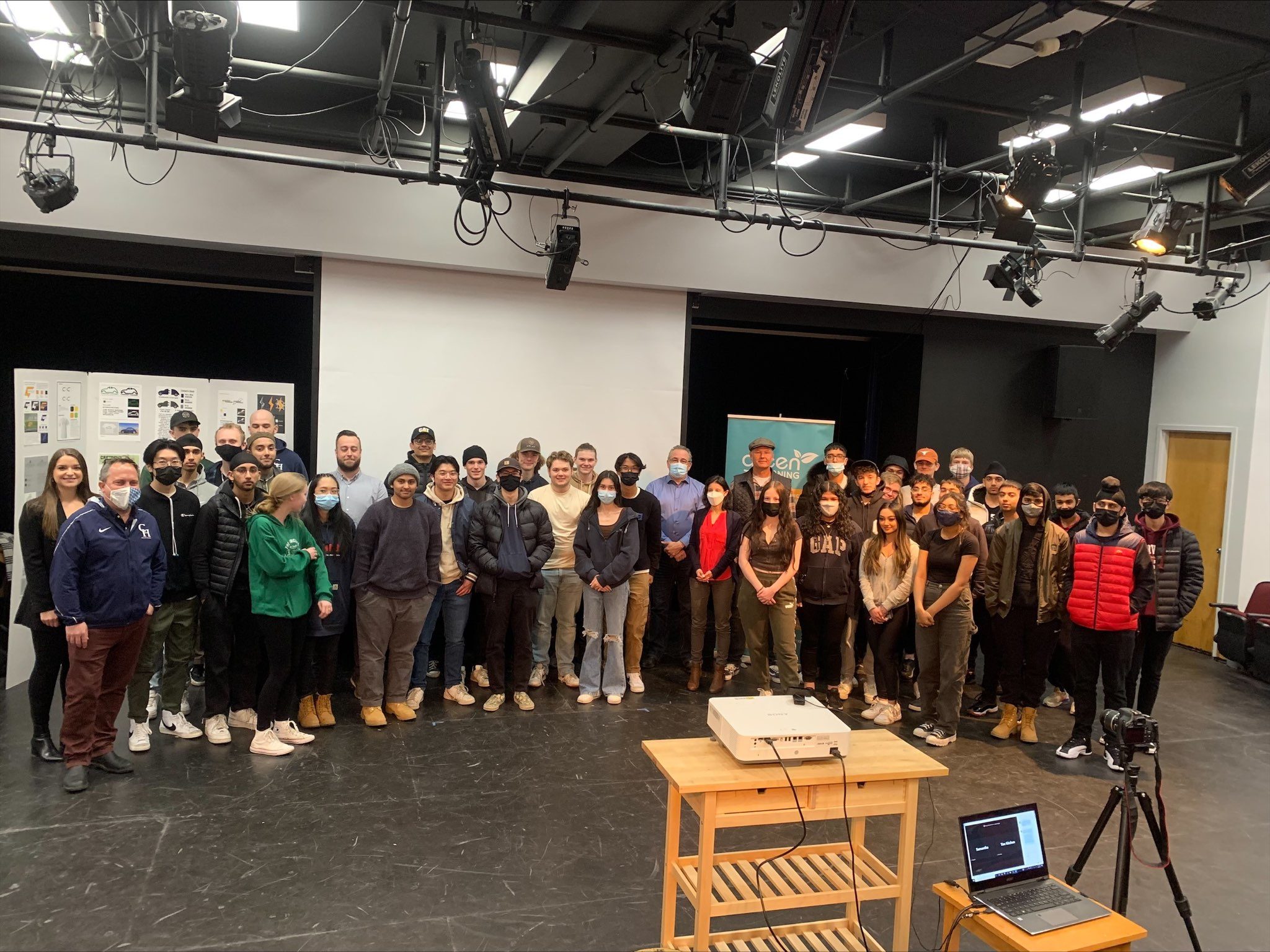 About the Project
"Electrifying the Future" is truly the bridge between current automotive programs and the future of what is needed in automotive classes. Because the current curriculum focuses on training for internal combustion engines (ICE), teachers are required to meet this competency while juggling electric vehicle education to help prepare students for the future of the automotive industry. "Electrifying the Future" bridges this gap by providing modules that meet current curriculum expectations and include EVs and EV infrastructure—namely, through a hands-on electric vehicle conversion of an ICE car. The focus on infrastructure brings in an additional community component: this project will involve the installation of charging stations to the high school and therefore the surrounding community, and will involve a public showcase upon completion.
We are teaming up with the talented teachers and students at Crescent Heights High School (CHHS) in Calgary, Alberta to convert a gas-powered 1975 Volkswagen Beetle into an electric vehicle and install charging stations at the school! Over the course of the project, both secondary and post- secondary youth will work together to learn about internal combustion engines and zero emission vehicles. With the help and expertise of our collaborators at ChargePoint, SAIT, Relectric, ZENO and High Voltage Garage, we plan to scale this program nationally in order to revolutionize automotive classes across Canada! By the end of the project, we'll have free modules, simulators and educational guides accessible on our website.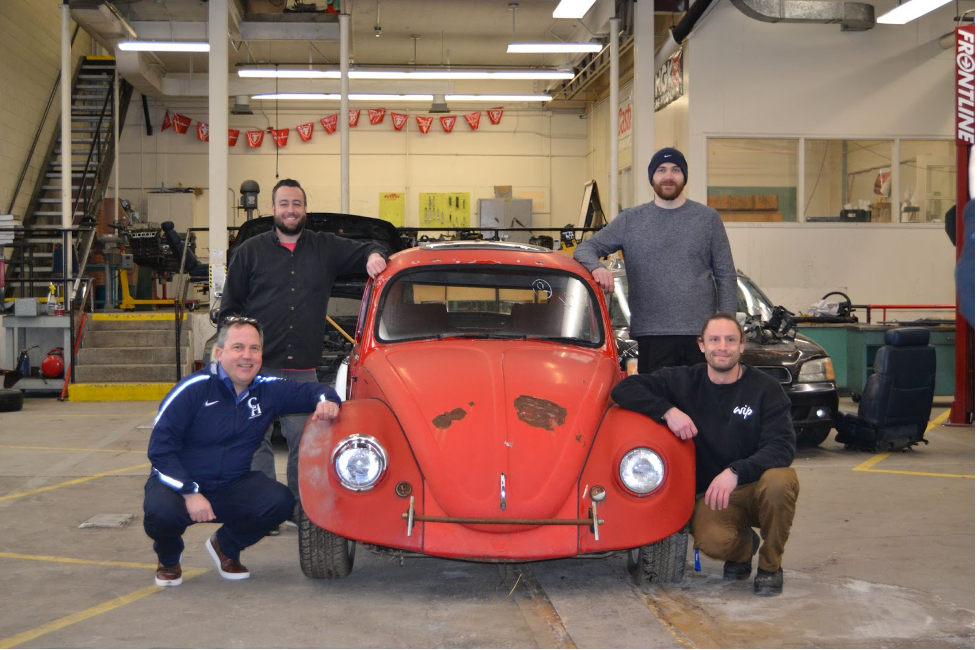 In the meantime, we'll document the process (photos, video, etc). Starting with the project's launch: GreenLearning and all of our project collaborators came together on Tuesday April 12, 2022 at Crescent Heights High School to celebrate the project. Between GreenLearning and project partner staff, as well as CHHS teachers and automotive students, 50 people attended the project presentation—representatives from our funder Natural Resources Canada and partner Central Memorial High School (working on the body of the vehicle and its paint job) also joined via Zoom! After the formal presentation portion of the event wrapped, attendees got to have a look at ZENO's Tesla, and High Voltage Garage's converted Ford Ranger and ask questions.
CHHS is particularly excited to be involved in the pilot stage: "As a school that is focused on climate learning and action, we are excited to be exploring the ways in which innovative science and technology could be used to reduce greenhouse gas (GHG) emissions and power Canada's clean transportation sector. GreenLearning's innovative program has provided the students from our automotive class and other classes an opportunity to apply and showcase their skills," says Tim Kitchen, Assistant Principal.
We at GreenLearning are so excited to be finally launching this project, not only for its cutting edge and ambitious mission, but also for its potential to be linked to EcoSchools, as well as its intersectional approach; CHHS design, robotics, science and math students are all involved in the EV conversion, as well as students from Central Memorial High School's Career and Technology Centre for the car paint and body work. And, of course, we're partnered with fantastic organizations that will help engage the surrounding community!
To start outreach, we're hosting a logo vote: CHHS design students have created Crescent Charged logos as part of a contest to choose the design associated with the project—this logo will also be on the converted car! Teachers and staff at CHHS narrowed the designs down to the top three, but now we need help choosing a winner! Head over to our instagram account to cast your vote (ends on May 31, 2022 at 11:59pm PST).
You can find more information regarding the Electrifying the Future project here. Or, look for us at Calgary's Electric Vehicle Festival and SkyFire's Summer Solstice Party!
Any questions? Email us at: [email protected].
Topics: Environmental Education, Energy, Electric Vehicle, Programs, Climate Change
Back to Blog